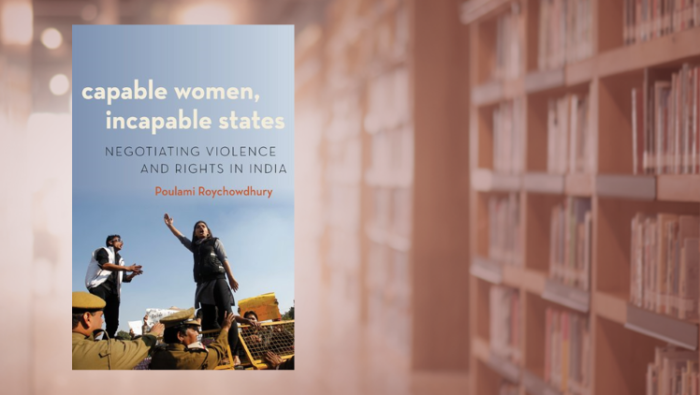 Making Women Powerful: What the Fight Against Gender-Based Violence in India can Teach us
by
Chelsea Wallis | 9 June 2021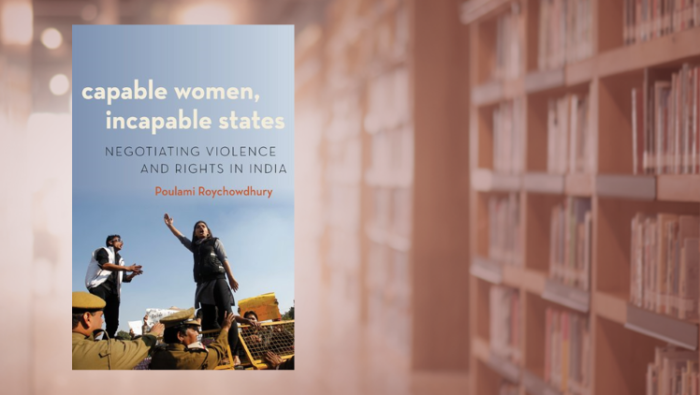 Poulami Roychowdhury's Capable Women, Incapable States: Negotiating Violence and Rights in India presents a lucid and compelling reassessment of the circumstances in which disenfranchised individuals pursue and claim their legal rights. Capable Women, Incapable States provides a rich account of individuals' attempts to live free from violence and coercive control, even when confronted by reluctant judicial officials and state malaise. The text makes an invaluable contribution to feminist Socio-Legal scholarship and to South-East Asian legal studies by interrogating how gender and cultural narratives collide within the politicised terrain of family violence. In particular, Roychowdhury's feminist qualitative methodology positions her to recognise critical gaps between official reports and policy statements, and the reality of managing and policing gender-based violence in India.
In an expansive study of seventy women facing domestic violence in West Bengal spanning a total period of sixteen years – including two years of ethnographic fieldwork consisting of in-depth interviews and observations – Roychowdhury traces these women's engagement with the full spectrum of legal and paralegal services. These methods enable her analysis to focus on how key actors actually behave, seeing beyond the 'discursive framings' adopted by legal personnel (p. 181). Her key finding is that the adverse social and legal conditions women encounter force them to adapt and develop their 'capabilities' for self-advocacy and proactive citizenship; in so doing, the women Roychowdhury works with challenge the gendered stereotype that it is the docile, chaste 'good victim' who will successfully obtain state protection from violence. It is those women who develop the confidence, tenacity, and even aggression necessary to 'run a case' on their own behalf, while strategically negotiating the complex field of legal and political stakeholders in the local social fabric, who are best positioned to realise their legal rights.
The text is structured around twelve chapters that chronologically follow the phases through which women experiencing domestic violence are channelled into and alongside the legal system. Roychowdhury first maps the highly politicised, polycentric territory into which family violence falls in the particular region of India in which her study is grounded. She explores the central role of 'brokers', referring chiefly to the local women-run non-government organisations (NGOs) targeting domestic violence, three of whom she gained frontline access to; it is here that Roychowdhury notes the complexity and frustrations of case management. Initially, most women seek assistance from NGOs not to acquire legal redress but to negotiate reconciliation and better treatment from their partners, premised on paradigmatic social norms that blame and alienate women for the 'failure' of a marriage, even when due to violence. However, through their engagement with these organisations and the educational programmes, financial and social support they offer, women are guided towards registering a legal claim, which in turn provides the NGOs with coveted financial, political, and sociocultural capital.
Confronted with a misogynistic and under-resourced police system and a judicial juggernaut that obstructs new cases at every stage, it is through relationships with brokers that women are coached to take the law into their own hands, pressuring, bargaining with, and cajoling key institutional figures, while also filing civil claims and arranging criminal prosecutions. As Roychowdhury explains, women do not interact with law enforcement as individual complainants of violence, but as members of a collective 'visibly embedded in complex, unpredictable, and threatening organisational alliances' (p. 7). It is how they mobilise these connections that makes the difference, toppling traditional discourses of victimhood in favour of the powerful ideal of 'capability' and the consequent transformation of legal consciousness towards self-reliant agency.
Yet in doing so, the institutional landscape inevitably privileges those who are strong enough to advocate relentlessly on their own behalf, maligning women who lack this resilience or have fewer social or financial resources. Moreover, despite the empowering rhetoric, only a tiny proportion of women ever profit from formal legal remedies, though many gain compensation through illicit 'parallel claims' with back-door police sanction. Yet it is the subjective shift Roychowdhury documents when women learn that the law is a strategic field open to them to engage with and manipulate that proves the most enduring lesson. These women's recognition that the legal system can be strategically navigated as a way to claim rights is perhaps the strongest justification for developing 'capability'. In doing so, Roychowdhury presents a clear case for why rights continue to matter even in the face of incapable systems of justice.