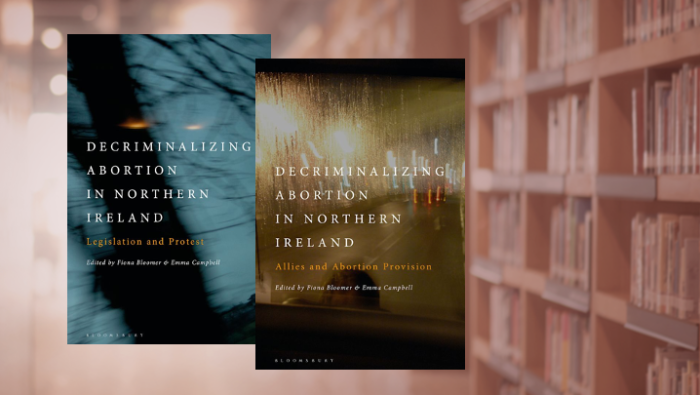 Abortion Rights Activism and Law Reform in Northern Ireland
by
Zoe L. Tongue | 19 July 2023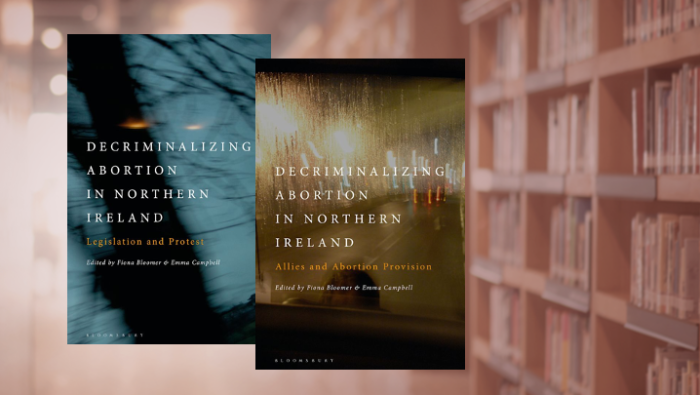 In 2020, regulations were – at long last – passed to provide for legal abortion services in Northern Ireland, after abortion was decriminalised the previous year. Before this, not only was NI the sole region of the United Kingdom without access to legal abortion (as the Abortion Act 1967 was never extended to NI), but it also had one of the most restrictive abortion regimes in all of Europe. Abortion was only permitted in NI where there was a risk to the pregnant person's life or a serious risk to their long-term health, and the Offences Against the Person Act 1861 imposed a maximum life sentence for illegal abortion. Each year, around 1000 pregnant people were forced to journey to England to have abortions, while many more accessed abortion pills online, putting themselves at risk of prosecution.
Decriminalizing Abortion in Northern Ireland is a deep dive into the long road to decriminalisation, spanning two volumes and a timeline of decades. Editors Fiona Bloomer and Emma Campbell have brought together numerous activists, scholars, policy-makers, members of NGOs, and those directly affected by NI's restrictive law to tell the history of one country's successful abortion rights movement. The volumes are divided into four (overlapping) themes: law; campaigning and activism; allied organisations; and abortion provision. These themes weave together chapters which together tell the story of the fight for abortion rights, and unlike other accounts, give us personal experiences of what it was like to be involved in this movement: we get to know the people, rather than faceless institutions, that actually delivered this change.
The first theme, law, covers the personal perspectives of those involved in legal challenges and policy making. Alongside these first-hand accounts are academic perspectives on why it took so long to achieve any form of abortion law reform in NI, largely down to the opposition from Stormont and the 'political apathy' (p.55) towards this issue at Westminster. This section ends with a chapter by Mairead Enright on the importance of recognising grassroots organisations such as Alliance for Choice (AfC) as legal agents. This chapter serves as an important reminder that the legal, political, and human rights institutions discussed earlier in the section formed only a relatively small part of the reform efforts, and leads neatly into the second theme: campaigning and activism.
AfC features prominently throughout this second theme; it is clear that this grassroots organisation and all of its volunteers played an immense role in delivering decriminalisation. Facing challenges such as a lack of funding and the reluctance of politicians to associate with a 'radical' organisation, AfC adopted a wide strategy of 'educate, agitate, and organize' (p.133). Their approach was multifaceted, from attempting to break the political silence around this issue, to public education (including fun and creative activities), to the sharing of lived experiences of abortion.
The second volume highlights the solidarity of other grassroots organisations and movements. Across various chapters covering the theme of allied organisations and activities, authors document the influence of trade union movements, university student officers, the LGBTQ+ movement, Medical Students for Choice, and even links forged with religious leaders. The abortion rights campaign was not treated as an isolated issue, but rather was connected to broader social justice issues. Several chapters highlight experiences of cross-border partnerships, including the annual Rally for Choice, the Irish diaspora who lent support to the NI as well as the Irish campaign, and the London-Irish Abortion Rights Campaign which supported both movements from across the pond.
The final theme covered by these two volumes is abortion provision. Abortion rights activism does not only include law reform efforts, but also ensuring that pregnant people in need of abortions in the short-term are able to terminate their unwanted pregnancies. Mara Clarke's chapter outlines the charity she founded, the Abortion Support Network, to provide the funds to callers from Ireland and NI to make the journey to Britain for a legal abortion. The use of illegal abortion pills was also a key part of the decriminalisation campaign as it was clear that the abortion ban was not preventing abortions from taking place in NI. The injustice of the prosecution of several women for obtaining these pills spurred on increasing support for law reform.
These two volumes tell the rich history of the abortion rights movement in NI, and how a constellation of movements and actors came together to achieve decriminalisation. They are a must-read for anyone researching abortion rights, and for those unfamiliar with the NI context, provide a thorough introduction, with a timeline of events included at the end of the first volume. These books also provide key insights for abortion rights movements elsewhere, in terms of how an intersectional and interconnected grassroots campaign can be more effective than reliance on political and legal institutions and organisations; abortion law reform is not possible without activism. Importantly, these books also highlight the sacrifices made and harms caused along the road to decriminalisation – to both activists, and those who were directly affected by a punitive abortion ban. This is not the end of the fight around abortion in NI – there are ongoing issues with abortion provision in the region, and we have seen from the US that backsliding is possible – but Decriminalizing Abortion in Northern Ireland tells a hopeful story, that feminist movements might achieve reproductive justice for all.