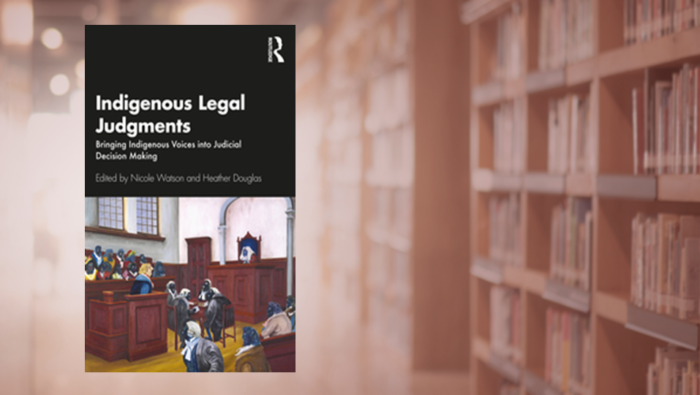 Finding Justice through Indigenous Voices     
by
Carson Smith | 27 April 2022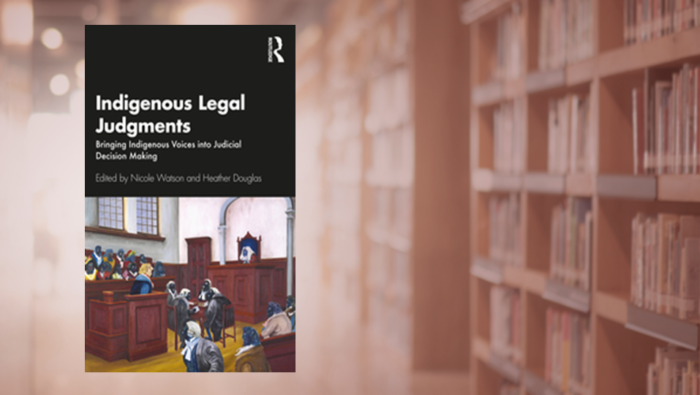 Nicole Watson and Heather Douglas' Indigenous Legal Judgments: Bringing Indigenous Voices into Judicial Decision Making reimagines 16 verdicts that have altered the lives of Aboriginal peoples or Torres Strait Islanders. In an act of Indigenous futurity, each rewrite centres Indigenous voices and the continuing effects of Australia's colonial foundations, which ultimately lead to new verdicts in these fictional proceedings. Such a text builds upon a growing body of scholarship that rewrites case law in conversation with critical race and feminist legal theories to give voice to society's most marginalised.  
Editor Nicole Watson is an Indigenous academic from the Munanjali and Birri Gubba communities as well as an associate professor and director of the Nura Gili Centre for Indigenous Programs at the University of New South Wales. Editor Heather Douglas, a professor of law at the University of Melbourne, specialises in criminal law and procedure. Together, they have assembled an impressive team of authors that write from their expertise as academics and legal practitioners. Each rewrite is led by an Indigenous author who utilises their unique standpoint to ground their judgments in previously omitted Indigenous epistemologies, narratives, and histories (p. 4). Many of the judgments also include a non-Indigenous, secondary writer, thereby modelling 'how Indigenous and non-Indigenous people can work together in a respectful way to promote the rights of Aboriginal and Torres Strait people' (p. 2) even possibly leveraging more privileged positionalities to support this endeavour. 
This book focuses on judgments in five core areas: sovereignty, land and sea Country, racism and discrimination, family and identity, and criminalisation and criminal neglect, while recognising the natural intersections between each. A majority of the chapters begin with commentary on the facts and original outcome of the case followed by the rewritten judgment. Each is rooted in a combination of Aboriginal and Torres Strait oral and cultural tradition as well as an Indigenous-centred analysis of Australia's colonial history. The former clarifies the relationships and responsibilities Aboriginal peoples and Torres Strait Islanders have to their Country; the latter achingly describes how these connections have been forcibly severed by the state.  
The collaboration is particularly successful at expanding the frame of legal judgments from the individual to the institutional. Many of the original judgments are constructed through a narrow analysis of individualised harm, isolating the mistreatment experienced by the Indigenous people in the respective case from a larger context of historic and systematic colonisation experienced by Aboriginal and Torres Strait communities. For example, in South Australia v Lampard-Trevorrow (2010), the nonconsensual removal of an Aboriginal boy from his family by the child welfare system is interpreted by the judge as unfortunate but not as a racially discriminatory incident. Yet when the judgment is reframed to evaluate the national trends and policies of child removal that 'targeted Aboriginal children, to deprive them of their family', a more insidious, holistic picture begins to emerge (p. 218). 
From the first pages of the book, the authors and editors openly grapple with the limits of their approach. As discussed in the first two chapters, Australia's founding and continued existence as a colonial body is in direct conflict with the existence and freedom of Indigenous peoples. The law has been and continues to be a mechanism of oppression, and, thus, may never be able to effectively liberate these communities. Aligned with these concerns, I found myself yearning for rewritten judgments that could escape the shackles of Australian law and, instead, primarily engage Indigenous frameworks of justice. Some chapters suggested possible pathways to do just this, such as employing Indigenous-designed truth telling commissions between Indigenous communities and the state; however, such suggestions were brief, and none wrote their judgments through this recommended framework. One could also imagine the authors rewriting a judgment through the perspective of a council of revered community elders or engaging some structure of conflict resolution/decision-making aligned with Aboriginal and Torres Strait customs. While the editors may have felt these additions would stray too far from the book's central mission, these changes could have helped the book break away from the confines of Australian law while also eliminating some of the repetition in content and structure from chapter to chapter. 
Overall, this was a collection that I thoroughly enjoyed reading. As an Indigenous person myself, albeit from North American homelands, I found this collection to be both captivating and practical as it sought to envision a future where healing and even reconciliation is made attainable by and for our communities.