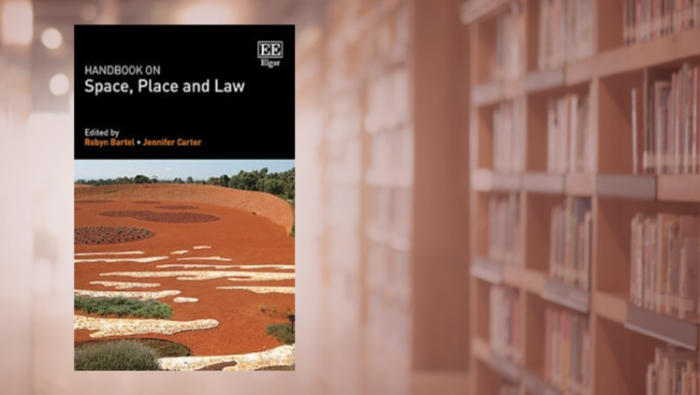 Crisis, Hope, and the Journey towards Imagined Legal Futures
by
Jessica Smith | 1 September 2021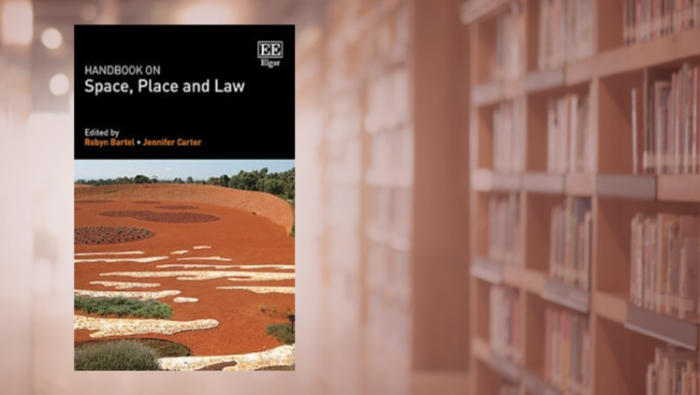 How can legal geographers be alive to the world-making activities of law's spatial immersion as they register hopeful responses to the multiple crises of contemporary spatial politics? Robyn Bartel and Jennifer Carter's Handbook on Space, Place and Law explores this question as a journey braided along themes of power and property, environmental justice, Indigenous peoples and relations with the land, legal pluralism, and the multiple entanglements of human and non-human lifeworlds. The Handbook foregrounds an approach to legal geography which emphasises connectivity, materiality, and fluidity. As the editors write, 'we are embodied beings engaging relationally in a material world – of space and place – within which we are interdependent and reliant, and governed by laws in a dynamic process rarely linear and never fixed' (p. xxi).
The Handbook contains 32 chapters, or stories, as the editors put it, a turn of phrase that borrows from Luke Bennett's contribution that 'places are products of storying' (p. 4). In the aftermath of the COVID-19 pandemic, a brief introduction locates the collection at the crossroads of crisis and hope, as social and environmental injustices continue to ripple out, yet leave space for re-imagining alternative human-nature relations. The Handbook proceeds as a metaphorical journey towards a re-imagined legal geography. Chapters are clustered into fours to compose eight thematic parts: Wayfinding, Journeying, Border Crossings, Different Directions, Intersections, Fellow Travellers, New Horizons, and Ways Forward.
The Handbook takes an expansive and trans-disciplinary approach to the field of legal geography. The editors are Australian scholars with expertise in geography and law: Robyn Bartel, a multi-disciplinary scholar of the environment and its legal regulation; and Jennifer Carter, a bio-geographer of animal-human relations. Contributors to the Handbook are diverse, with perspectives across the legal and spatial disciplines, a range of jurisdictions in focus, and a mix of new and well-established voices drawing upon the geographical imagination. Topics within law and geography cut across archaeology, urban studies, anthropology, political ecology, planning, sociology, and beyond. Places are both real and 'storied', urban and rural, terrestrial and marine, and drawn from every continent (with the exception of Antarctica).
The range of topics and breadth of imagination is undoubtedly impressive. The focus on space and place, however, relegates the concept of movement to metaphor – albeit one which is centrally deployed as a structural device to bind the chapters together. Whilst the editors explain that space and place are organising concepts which can be used to highlight injustices and unsustainabilities, movement (and mobility) may have introduced the conditions of flux and fluidity that are gestured towards throughout the metaphorical journey. A growing body of Australian legal scholarship has illustrated powerfully the place-making activities of law's movement and the benefit of thinking of law as a pathway – addressing parallel themes of materiality, plurality, colonialism, and the ethics of living with law. This scholarship would have complemented the Handbook's overarching ethos and enriched the innovative theoretical insights which unfold from the collection's emphasis on cutting across conceptual binaries.
The absence of movement, however, is a minor point given the richness and vibrancy of the volume. The 'legal' in legal geography ebbs and flows throughout the Handbook, circulating in the spaces in between chapters. Contributions from legal geographers and Socio-Legal scholars include studies of stalking, sexual offences in the courtroom, administering place, privacy in high-rise buildings, and the abstraction of property. These Socio-Legal perspectives are complemented with chapters approaching place as a concept which creates legal relations, with topics including Cold War bunkers, papaya production in Fiji, Indigenous land and colonial theft, and gendered attachment to sea-places.
Taking an 'agenda-driven' (p. xxix) and 'activity-orientated' (p. xxi) approach, the editors make a distinct contribution to legal geography, shaping a diverse, expansive, and future-focused collection of essays which finely balance being critically attuned to unequal formations of law and power whilst offering optimistic approaches of how to do things with legal geography. As the editors explain, 'to see things through a spatial lens draws attention to relationships among people, material things, and other living creatures. It draws attention to connections as well as exclusions, and thus can be used to highlight inequities and unsustainabilities' (p. 382). It is for this reason that the Handbook is likely to have broad appeal beyond the field of legal geography. The Handbook's focus on pressing issues of environmental and social justice, its theoretical attention to materiality and plurality, and its transdisciplinary approach will make a significant contribution within and beyond the field of legal geography.