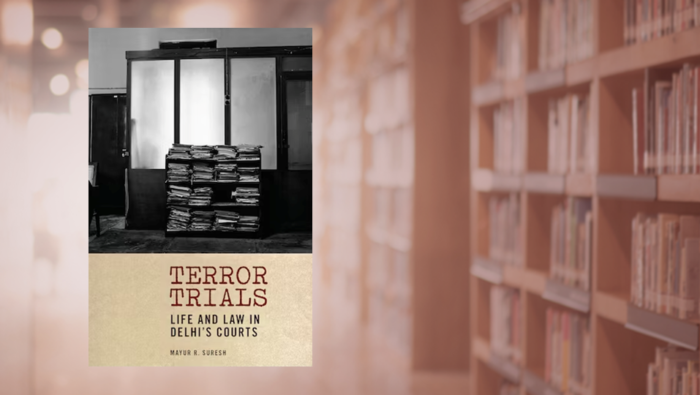 Truth and Technicalities in Terror Trials
by
Ayesha Pattnaik | 24 May 2023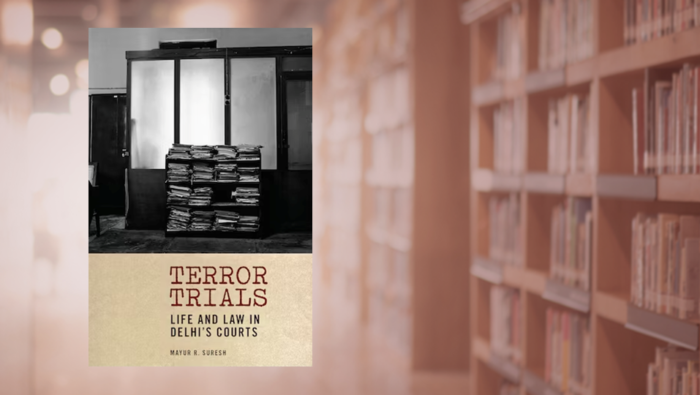 Being charged under India's anti-terror laws has been compared to being suspended in a Kafkaesque legal blackhole. Citizens are instantly stripped of rights and embroiled in arbitrary legal procedures, leaving them alienated and afraid. In contrast, Mayur Suresh's new book Terror Trials: Life and Law in Delhi's Courts opens with a verse from Carson's Red Doc which frames the tale of Prometheus stealing fire from the gods as an act of hope. In the rich legal ethnography that follows, the author traces the experiences of 18 petitioners under trial for various anti-terror laws in India and presents a meticulous understanding of how these procedures enable legal spaces to be reclaimed by those accused.
This ethnography unfolds in Delhi's Tis Hazari trial courts and follows how different petitioners engage with the legal system seeking acquittal. The book is structured around the concept of legal technicalities, an umbrella term Suresh uses to study the mundane routines at the heart of terror trials. He elaborates on three types of technicalities: the 'tekhne' of experiential knowledge; shared knowledge built together by petitioners; and voice enabled through legal documentation. Each chapter explores how these different technicalities are not just quotidian procedures, but present opportunities for petitioners to participate in their trials. The focus is explicitly on procedural aspects of the courtroom and not a comment on substantive elements of India's anti-terror laws.
The first chapter explores what Suresh calls 'custodial intimacy', which petitioners develop with police officials. This emerges firstly through the familiarity developed over time as petitioners and police interact closely over the long duration of trials, which may forge unlikely friendships and solidarities. While this idea of intimacy may leave the reader uncomfortable, Suresh clarifies this is not always positive and highlights the ambivalence of this relationship. The author also discusses the role of rumours in creating this intimacy, where petitioners exchange knowledge about the inner workings of the police (which may often be untrue). Custodial intimacy operates as a conceptual tool in the book to analyse how for petitioners, the law is no longer a distant unknown but is enmeshed with their everyday experiences.
This knowledge of the legal system also develops for petitioners as they learn how to inhabit legal spaces by collaboratively translating and learning legal language. In Chapter 2, the author describes how one petitioner built his own defence and conducted the cross-examination of witnesses, eventually leading to his acquittal. Learning about the technicalities of legal language enabled this petitioner to exercise what Suresh calls 'recycled legality' (p.76), where petitioners use law against the state. In Chapter 3, the author takes this idea forward to analyse how increased understanding of legal language provides a hopeful realisation for petitioners: the state is vulnerable to its own laws.
The remaining chapters of the book study how petitioners understand legal documentation as creating legal truths and find ways to exercise their own voice within it. Equipped with an understanding of legal language, petitioners navigating the extensive paperwork involved in trials learn how files can be used to fabricate juridical truth. The final chapter on petition writing presents a powerful account of the empowering capacity of legal technicalities. In contrast to official files, the act of writing allows petitioners to contest legal truths. By including letters, petitions, and diary accounts written by petitioners, this section is particularly moving in showing how it enables petitioners to reclaim their stories.
A final point of interest for socio-legal scholarship is that Suresh departs from legal anthropological scholarship that views the courtroom as a microcosm of social relations and power dynamics. Scholarship on Indian terror trials in particular draws on this tradition to study law as a tool for either mirroring or reconstructing social cleavages along communal, caste, and ethnic lines. However, the author distinguishes this ethnography by drawing on methodological approaches developed by science and technology studies (STS) and actor-network theory (ANT) to focus on quotidian routines and legal technologies (p.12). With each chapter providing an insight into how legal technicalities create opportunities for petitioners to co-produce legal meaning and challenge social cleavages, Terror Trials illustrates the relative autonomy of the law from the social.
Suresh neatly brings rich qualitative data into conversation with academic theory to highlight how legal technicalities can create spaces for petitioners to challenge and reclaim legal truths. The extent to which these spaces inspire hope for petitioners is uncertain, particularly given that a large number of cases filed under anti-terror laws do not go to trial, denying these individuals similar opportunities of participation. However, it is vital to read the book as a novel contribution to studying legal technicalities not merely as administrative obstacles, but as avenues of possibility.
At the heart of Terror Trials is the stories of petitioners, who like Prometheus stealing fire from the gods, draw on the law to carve out spaces of hope and agency.